Contact Lenses & Orders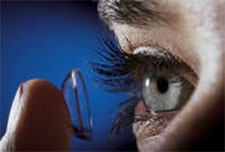 Springfield Eye Associates provides exceptional professional contact lens services. Patricia Clark, O.D. is well trained in contact lens fitting and assessment and looks forward to meeting with you and exploring your contact lens options. She can be reached at 413-739-7367. If you are interested in contact lenses or currently wear contact lenses, Dr. Clark or our other doctors can discuss the various options with you. Our recommendations are individually tailored to each patient and are based on many factors including your glasses prescription, visual needs, overall health, and eye health.
Contact lenses are FDA-regulated medical devices that can only be dispensed with a prescription. Contact lens use can affect the health of the cornea so it is critical that each patient's ocular health, and contact lens fit be evaluated on an annual basis.
A contact lens evaluation is a separate part of a comprehensive eye exam and requires additional testing. Most insurance companies require doctors to separate comprehensive eye examination fees from any services performed due to contact lenses. More time and testing is required for a patient who wears contact lenses, therefore, most insurance companies do not cover the additional fees associated with contact lenses.
In addition to providing good vision, the goals of successful contact lens wear includes comfort without compromising eye health. We work with all major manufacturers and labs for both soft and rigid contact lenses. We offer fittings for specialty contact lenses including astigmatic, bifocal, and keratoconus. Whether you are considering contact lenses for the first time, or have been wearing lenses for many years the latest in contact lens technology can help you meet these goals. We look forward to meeting with you soon!
Click Here to Order Contacts Online
---