Our Mission is Your Good Vision
Springfield Eye Associates has been providing quality eye care for the residents of Western Massachusetts and Northern Connecticut since incorporation in 1968. Our office is conveniently located on Main Street in Springfield, Massachusetts.
Drs. Moraitis, Hanson and Bredvik are board certified ophthalmologists; eye physicians and surgeons, with advanced training and extensive experience in detecting and treating diseases of the eyes.
Dr. Clark, Dr. Devine and Dr. Kidd are licensed, residency trained optometrists, with advanced training in examination and detection of diseases of the eyes, along with contact lens fitting.
We look forward to serving you and your family and friends for comprehensive vision exams, along with the medical and surgical treatment of complex eye conditions.
Welcome to our website. As you go from page to page, you will notice icons for videos.
Please feel free to click on these to learn more about the subject on that page. Most of these come from the American Academy of Ophthalmology.
As always, if you have additional questions, call us at 413-739-7367.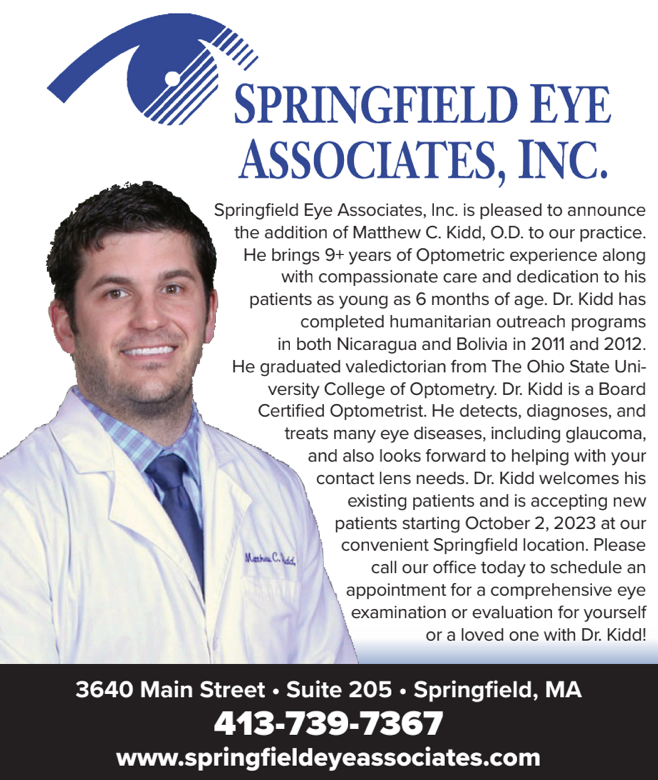 Dr. Moraitis and Dr. Hanson of Springfield Eye Associates are the proud owners of Campus Opticians. The Optical Shop is conveniently located adjacent to our office. Schedule an appointment to meet our certified, licensed optician, Paul, for a quick glasses "tune-up" or to make your next eyewear purchase!
Visit Our Optical Shop for more information.